Forbes
In June, 1980, after working through his college years as a freelance journalist, Jonathan's joined the staff of Forbes Magazine as a Reporter-Researcher.  Jonathan became the first Forbes journalist to report on the explosive growth of the electronic games industry, as well as seismic technological changes in the music industry and video industry.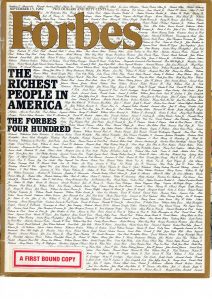 In the middle of 1982, Jonathan was assigned by Malcolm Forbes to be the lead reporter and wealth assessor for the first Forbes 400 listing of wealthy Americans.  As recounted in this recent article for Forbes' 100th anniversary issue and more extensively in this "Rich List" chapter of a biography of Malcolm Forbes' life, Jonathan spent 14 months travelling around the country and developing tools to assess private wealth. In addition to initiating the research for the first Forbes 400, Greenberg assessed private real estate wealth, including Donald Trump's, for the Forbes 1983 Rich List and the Forbes 1984 Rich List. 
During his more than three years on the Forbes staff, Jonathan's investigative reporting exposed the largest business scams of the time, including the April Fool's Day Massacre, a Ponzi scheme that was remarkably similar to the Bernie Madoff scam that followed 25 tears later.  Jonathan also wrote the first two extensive profiles of African American business leaders to appear in Forbes, a profile of Ebony Magazine founder John Johnson and the reverse roots story of Oklahoma's Simmons family and their success in bringing American oil companies into Nigeria and West Africa.
When Jonathan left the staff of Forbes in August of 1983 to write a multi-generational book about he Simmons family (more on the critically acclaimed biography Staking A Claim here), Forbes' top Editor James Michaels wrote a rare farewell to Greenberg in his Side Lines column which he headlined, "A beautiful swan song." Referring to Jonathan's last piece, a controversial expose titled, ""the Rise and Fall of Robert Sutton" Michaels wrote: "Jonathan Greenberg is only 25, but he has already developed many of the skills of a veteran reporter."
After leaving Forbes full-time, Jonathan remained a freelance consultant to the 1983 and 1984 Forbes 400 project, assisting with real estate interviews and valuations. He continued to contribute in depth investigative articles for Forbes through the 1980's including exposes about the controversial redevelopment of New York's Times Square, and the secret American real estate holdings of Imelda Marcos.